The Business Booster Power Hour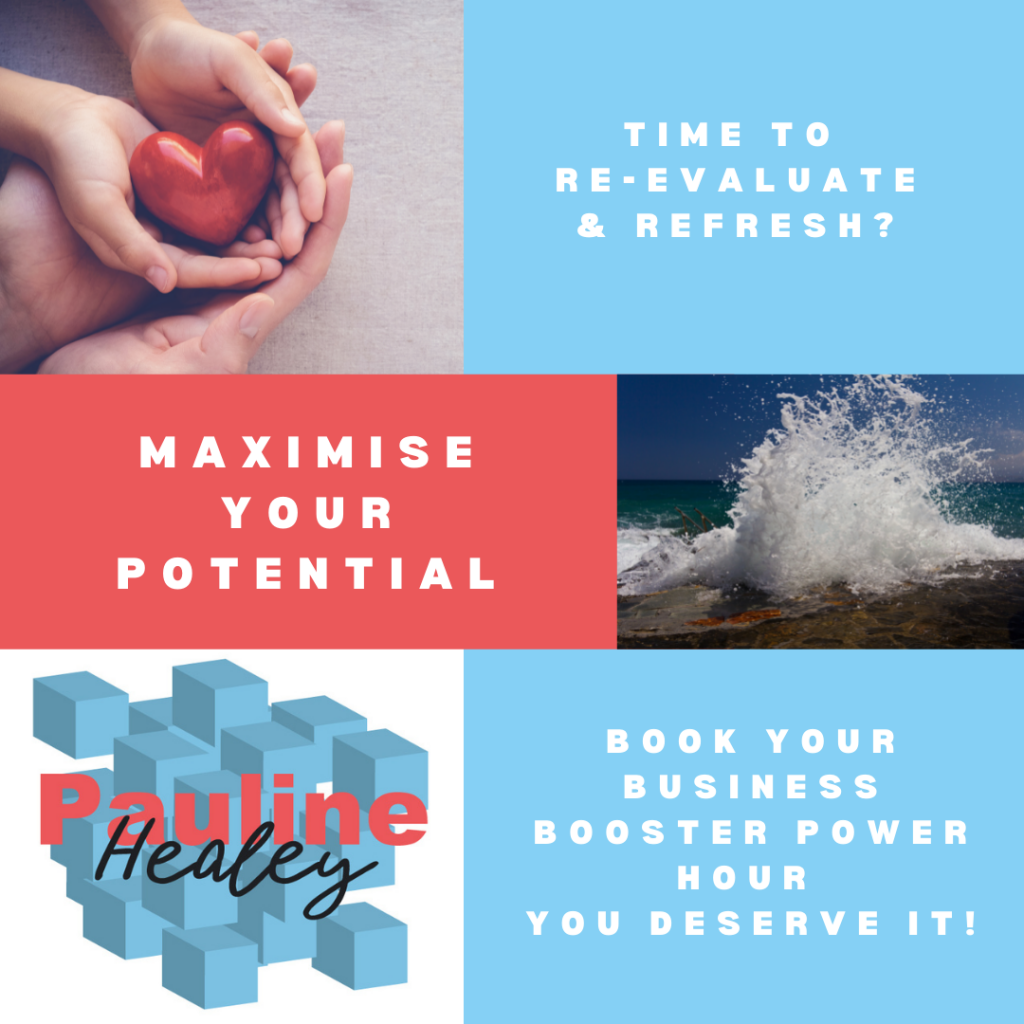 Even the most successful entrepreneurs have questioned themselves, their product, or their idea. So you're in good company!

Is it commercially viable? How can I produce a more profitable business? Where do I start? How do I overcome current barriers?
The Business Booster Power Hour is based on 25 years of supporting and leading business growth from start-ups, not-for-profits and family businesses through to medium-sized limited companies and international PLCs. Your goals, your growth, your potential – with the direction and structure to realise them.
Are you ready to turn your dream into your plan with a Business Power Hour?
The Business Booster Power Hour begins by obtaining initial business information from you before our 60-minute zoom call. I will understand your business basics, your current business position and aspirations before we go deep! Next, we meet on zoom and have a full hour developing your business idea, testing and tweaking. The questions are unique to your business opportunities, issues or idea. The answers are unique to my vast experience and working knowledge of supporting business growth.
The outcome? You will know where you are going and exactly how to get there. Plus, those pesky perceived barriers will be no more. You will also receive a summarised action-plan in writing following our meeting that you can use to keep progressing and refer back to whenever you need to, so you gain so much more than just the hours zoom.  
This process simplifies and delivers.  I cut through the complexities and strongly believe in value.  We are all busy and all want to create a profitable business to be proud of – a business that works for you and not the other way round.
Having walked in your shoes and securing much of my business from referrals – I ensure the Power Hour is jam-packed with value so your business can be one of the success stories.  I call it a power hour, but in fact you are gaining much more with my pre-call assessment and post-call follow up summary, power 90 minutes doesn't have the same ring to it!
Perhaps you are endlessly overthinking, unsure if you have the correct business processes, or are unsure how to take your idea and turn it into a profitable venture.
The Business Booster Power Hour is a targeted, high-level business consultancy built for smaller businesses. By the end of the session, you will be energised, clear and confident in how to progress your business. You will have defined steps to follow that are realistic, simple and clear, and straightforward advice and guidance. I understand the value of your time and your money. The Power Hour provides both. In spades. And it works.
What Our Customers Have To Say
Stella Sansom Harper PT
Pauline has shown me how to take my business to the next level. I was completely stuck, I knew the end goal but wasn't sure how to get there, how to find a supplier, how to approach them, what sort of package I could expect and what I should put into place to ensure that my investment is a good one. The best thing about this service is you don't need to be a big business or have a high turnover to get good advice, Pauline helps you to find a solution within your grasp. Really glad I took advantage of her Power Hour it's well worth the money for no-nonsense, easy to understand one to one advice.
Suzanna
Pauline totally understands all areas of a business. I had a strategy session where she provided great advice on one-off bookings to ongoing retainers, how to schedule my week to allow for a mix of flexibility for myself and clients, and most importantly on how to improve my pricing structure. I now have improved income with less time 'messing about' so become more efficient. My billing and services are clearer to clients and I have more family time, happy all round! The small investment is totally money well spent with Pauline!
Dagne
Would love to recommend Pauline for your business strategy! I have my little business that is currently going well and had more future ideas that involve more complicated details such as marketing, bookkeeping, licenses, and more. Pauline listens and has the ability to come back with numbers immediately to explain what would it mean for your business and gives her input on what would work better if she has other ideas. I could have probably done some steps myself but with a lot more failures not realising how much more admin work I needed to do in the way and that would take me probably months to be where I am already! I have left my strategy meeting more confident about what will my next steps be and have clear resources to work with! As having little profits for my business currently, I can't afford to pay much but Pauline's price for this meeting was reasonable and affordable even for me, and I'm so glad I invested in this! I could sense she likes helping people the same as I do and we had an amazing meeting! Thank you, Pauline!
Simon
I've had an idea for a while to provide seeds and bulbs to local children by funding from businesses, I received a few donations but I wanted to create new income.  Pauline focused on the commercial market and how I could tap into providing a service in the current climate and going forward. WOW, two income streams identified within the hour, with a summary of how to approach the businesses and pricing.  Within 2 weeks I had 3 different business bookings and well on my way to creating children's garden packs! For a very small investment my idea finally turned into reality, the boost I needed!
Andrew
I have a good head for numbers but needed some guidance on creating a business plan with financial forecasts to gain funding to scale up my business.  Sure, I could have googled or accessed free government-funded business support but it would have taken time with possible confusion from google or delay with free support. For the relatively small investment, Pauline answered my questions, provided structure, and also ensured I considered changes in income levels and costs.  With her help, I had the confidence to submit a robust plan.  If you're somewhere between wanting to complete yourself but gain some expert direction, the power hour is your answer!
Why choose Pauline Healey and Logical BI for Power Hours?
My business was born based on 25 years of broad commercial experience and because I truly love helping my clients succeed. That's my "why" and it gives me huge satisfaction. I am friendly, empathetic, and I understand the hurdles and how to overcome them. When you need to inject your business with clarity, direction and results – The Power Hour is your strategic partner.
For just £175, The Business Booster Power Hour will arm you with the tools, knowledge, steps and conviction to succeed.  
"In the first month, our income grew by 300% compared to the previous average month so paid for the strategy call many times over…."
You will gain bite-sized support from a business consultant who is passionate about your results, a little more about Pauline;
25 years supporting businesses of all sizes from sole traders, family businesses, not for profits and start-ups through to international PLCs
Experienced in many sectors including trade, retail, distribution, software, manufacturing, hospitality, wellbeing, services – to name a few!
I started in finance and am a qualified chartered accountant
I hold an MBA in Executive Management
Highly experienced in business leadership
Driven by finance – passionate about results
For just £165, The Business Booster Power Hour will arm you with the tools, knowledge, steps and conviction to succeed.  And if you're after a follow up accountability call, these can be booked within the following 4-8 weeks at £125; I am driven to support your success!
Are you ready to inject some love and invest in yourself?
Then let's do this!
Need More Business Support?
Business Power Hours FAQs
Some of our most frequently asked Power Hour questions.
If yours isn't answered here, don't worry, you can still ask!
How many power hours do I need to commit to?
Power hours are jam-packed with value. I obtain your initial business information and details on what you like to discuss so that I can prepare beforehand. This will help make the hour we spend together the most powerful it can be. Everyone has left the single session gaining an action plan for their next steps without the need to book additional hours. Repeat bookings have only been due to new business ideas, issues or questions.
Can you review business plans during the Power Hour?
Yes, these Power Hours are amazing if you have completed the plan yourself and you would like experienced feedback to make it the best it can be, and I will ask those questions you may not have thought of! Your plan must be robust, both in narrative and financials, and address what may happen in various scenarios. If you would like this service I will follow up on your booking asking that you send the business plan prior to the call so I can review prior to the meeting, saving you time on the call.
Can you prepare a business plan for me during the Power Hour?
A great business plan takes many hours of work so it would not be possible to prepare within the hour. However, we can discuss a business plan draft with the required narrative, thought-provoking questions for you to address and how to complete the financials. You can then book the accountability follow-up call to review your final draft for my input if you wish.
Do you offer any additional support beyond the hour zoom call?
Following our 1-to-1 zoom call, you will receive a summary email of the next steps. I do not mind any initial questions in relation to the plan and I welcome feedback and love to hear about your success. I also offer a follow-up accountability call at a discounted rate, which is only available to power hour clients. These are to offer a follow-up from the first hour if you have encountered some new challenges along the plan or just want to check that you are progressing along the right path.
Are you able to offer Xero set-up or bookkeeping training during these Power Hours?
It really depends on your business activities and what previous experience you have. Previously, I have provided Xero health checks and setup reviews. I have also trained people how to operate Xero effectively to keep their bookkeeping activities up to date. Complete Xero set up may take too long to complete within the hour for your business, if this is requested in the booking I will contact you for further detail and advise if we need more than an hour to complete.