The Business Booster Power Hour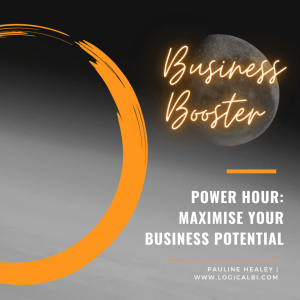 Even the most successful entrepreneurs have questioned themselves, their product, or their idea. So you're in good company!

Is it commercially viable? How can I produce a more profitable business? Where do I start? How do I overcome current barriers?
The Business Booster Power Hour is based on 25 years of supporting and leading business growth from start-ups, not-for-profits and family businesses through to medium-sized limited companies and international PLCs. Your goals, your growth, your potential – with the direction and structure to realise them.
Your Business Boost + Applied Strategy = Profitable Results
Perhaps you are endlessly overthinking, unsure if you have the correct business processes, or are unsure how to take your idea and turn it into a profitable venture.
The Business Booster Power Hour is a targeted, high-level business consultancy built for smaller businesses. By the end of the session, you will be energised, clear and confident in how to progress your business. You will have defined steps to follow that are realistic, simple and clear, and straightforward advice and guidance. I understand the value of your time and your money. The Power Hour provides both. In spades. And it works.
Are you ready to turn your dream into your plan?
The Business Booster Power Hour begins by obtaining initial business information from you before our 60-minute zoom call. I will understand your business basics, your current business position and aspirations before we go deep! Next, we meet on zoom and have a full hour developing your business idea, testing and tweaking. The questions are unique to your business opportunities, issues or idea. The answers are unique to my vast experience and working knowledge of supporting business growth.
The outcome? You will know where you are going and exactly how to get there. Plus, those pesky perceived barriers will be no more. You will also receive a summarised action-plan in writing that you can use to keep progressing and refer back to whenever you need to.
This process simplifies and delivers. I cut through the complexities and strongly believe in value. We are all busy and all want to create a profitable business to be proud of – a business that works for you and not the other way round.
Having walked in your shoes and securing much of my business from referrals – I ensure the Power Hour is jam-packed with value so your business can be one of the success stories.
What Our Customers Have To Say
The Conviction to Succeed
My business was born based on 25 years of broad commercial experience and because I truly love helping my clients succeed. That's my "why" and it gives me huge satisfaction. I am friendly, empathetic, and I understand the hurdles and how to overcome them. When you need to inject your business with clarity, direction and results – The Power Hour is your strategic partner.
For just £125, The Business Booster Power Hour will arm you with the tools, knowledge, steps and conviction to succeed.  
"In the first month, our income grew by 300% compared to the previous average month so paid for the strategy call many times over…."
You will gain bite-sized support from a business consultant who is passionate about your results, a little more about Pauline;
25 years supporting businesses of all sizes from sole traders, family businesses, not for profits and start-ups through to international PLCs
Experienced in many sectors including trade, retail, distribution, software, manufacturing, hospitality, wellbeing, services – to name a few!
I started in finance and am a qualified chartered accountant
I hold an MBA in Executive Management
Highly experienced in business leadership
Driven by finance – passionate about results
For just £125, The Business Booster Power Hour will arm you with the tools, knowledge, steps and conviction to succeed.  And if you're after a follow up accountability call, these can be booked within the following 4-8 weeks at £75; I am driven to support your success!
Are you ready to inject some love and invest in yourself?
Then let's do this!